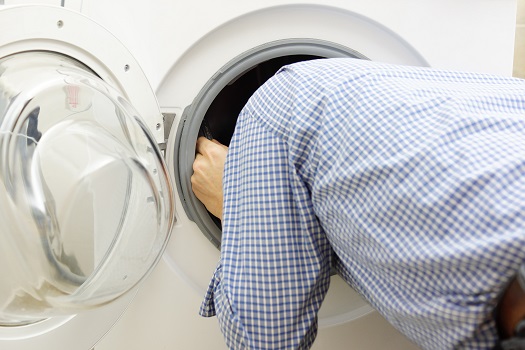 No one enjoys taking baskets full of clothes to a laundromat, but the blessing of owning your own washer can feel more like a curse if your machine starts to flood. The homeowners insurance experts from Altra Insurance explain what you need to do if you have a washing machine flood.
Mitigate Your Damage
Turn off the water to the washing machine. Use towels and other absorbent materials to soak up and remove the water as quickly as possible. Set out some fans to blow air into the laundry room to ensure any remaining water (soaking into walls, etc.) is dried as quickly as possible. Make sure you move the washer, dryer, and any other items out of the laundry room so you can get all the water that flooded the space.
Check Your Homeowners Insurance Policy
Many homeowners insurance policies cover damage caused by a washing machine flood. What's often not covered is the washing machine itself. Because it was the cause of the flood, you'll typically be responsible for repairing or replacing the machine yourself. It's also important to note the difference between a sudden flood and a leak that caused more gradual damage. If the machine was slowly leaking for a long time before flooding, the damage may not be covered. Get out your policy and read it over carefully to ensure you know exactly what's covered before you try to file a claim. You don't want to be surprised to learn your damage isn't covered.
Contact Your Insurance Company
Once you've cleaned up the mess, it's time to reach out and file a claim for the damage. You should contact your insurance company as soon as possible after the flood. Explain exactly what happened and give as many details as you can to ensure your claim moves forward as quickly as possible.
Take Photos of All Damage & Keep Damaged Items
Once you've confirmed your home insurance covers the damage, take plenty of photos. Make sure to take photos from multiple angles and distances to make it easy to analyze the damage. While you may be understandably worried about mold, it's also important that you hold on to any damaged items until you've filed a claim and had everything repaired. You'll also want to make sure you keep the damaged items in a climate-controlled area so the damage isn't worsened while you go through the claims process. 
If you aren't sure whether your home insurance covers an incident like a washing machine flood, you should check your policy now. For information on any aspect of home insurance, reach out to the insurance experts at Altra Insurance Services. We also offer affordable, reliable renters, motorcycle, and auto insurance Chula Vista. Call one of our friendly agents at 619-474-6666 today for a free quote.