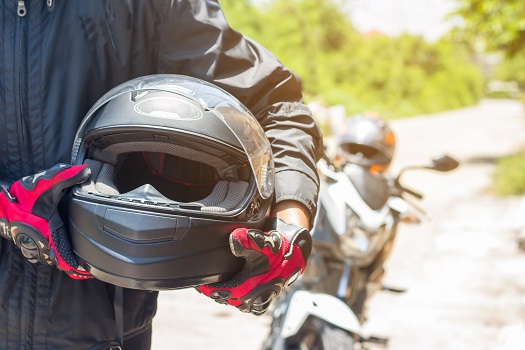 There's nothing like the thrill of hitting the open road on a motorcycle, but safety should always come first, especially while you're still developing the skills you need to ride. With practice and patience, it won't be long until you've gained the confidence to go on long adventures away from home. If you're a new rider, this safety checklist—brought to you by Altra Insurance, the leading providers of affordable motorcycle insurance San Diego bikers rely on—will make your next ride as safe as it is thrilling.
Always Wear the Right Gear
Even for a quick ride through the neighborhood, it's crucial to wear proper gear on your motorcycle. What would otherwise be a minor fender-bender can lead to devastating injuries for a motorcyclist. You're also more prone to accidents and tipping over while you're still learning to ride. Invest in a high-quality helmet, even if you're going to ride outside California, where helmets are required by law. Eye protection, sturdy boots, riding gloves, a leather jacket, and leather pants are also recommended to reduce the risk of injury in case of an accident.
Maintain a Safe Distance from Cars
Motorcycle accidents are often caused by car drivers because they outnumber motorcyclists on the road, have difficulty seeing motorcycles, and underestimate the maneuverability and acceleration of a motorcycle. Never assume a driver can see you. Instead, practice defensive driving and try to remain visible by staying out of a car's blind spot. If you can't see a car's side mirror, the driver can't see you.
Practice Braking
One of the biggest learning curves with a motorcycle is its braking ability. A motorcycle brakes very differently with or without ABS, and it reacts very differently than a car to braking. It's important to practice braking safely in different road conditions and at various speeds. Make sure you know what speed is safe for entering corners, as a motorcycle isn't as forgiving as a car when it comes to errors in judgment. If you go into a corner too fast, you may be left with no safe way out of the turn.
Look Where You're Going
This isn't just a general caution to remain alert. When riding as a beginner, target fixation can be a problem. When riding, you'll go in whatever direction you're looking. When approaching corners, you'll want to look through the corner, not at the ground. You'll need to look ahead while anticipating how you'll react to situations such as pedestrians or road debris. You can also turn your head as you ride as a signal to let other drivers know you'll be turning or moving and which way you're going.
Take a Safety Course
One of the most important things you can do to build your skill and confidence is taking motorcycle safety and riding courses. Motorcycle classes can help you further develop skills you're already learning and develop new techniques in the future.
Another important aspect of owning a motorcycle is having adequate insurance. If you need affordable, reliable motorcycle insurance, reach out to the experienced agents at Altra Insurance Services. We also offer several other types of insurance, including homeowners, renters, and auto insurance Chula Vista. Local residents should call us today at 619-474-6666.